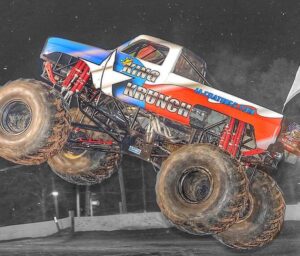 HERE COMES THE MONSTER TRUCKS!
NO Limits Monster Trucks & Thrill Show is returning to Robstown, Texas!  Don't miss a full evening of action beginning 7 pm February 24th!​ This will be the wildest Monster Trucks & Thrill Show to come to the RMB REGIONAL FAIRGROUNDS & Event Center.  Saturday, February 24th!-

Don't miss this chance create unforgettable memories !
Get tickets now ONLINE www.nolimitsmonstertrucks.com/shop/ and SAVE BIG with early advance discount pricing.
The local O'Reilly Auto Parts Store 306 W Ave J, Robstown, TX 78380 will 
The event begins with opening ceremonies led by the Christian Motorcyclist Association.  After the National Anthem and invocation it's time for a very special part of the show as 280 pound 73 years young "BIG ED" Beckley the noted World's Largest Motorcycle Ramp to Ramp Jumper takes the spot lite.  Beckley has performed all over the US & CANADA at major Stadiums and Arenas but never in the Corpus area.  This will be his first appearance in the area and it is special as this time he has a beautiful young lady Stacey Steinert who will be riding on behind him as they attempt a Ramp to Ramp motorcycle jump with both of them on the same motorcycle! 
This event has some of the biggest names in monster trucks like Monster Jam Tv stars.   Don't miss the star studded field and this years newest touring monster truck and already crowd favorite GERONIMO!  Plus see KING KRUNCH, NITRO HORNET, THRILL BILLY and OUTLAW WRANGLER  compete in non-stop ground-pounding action!  
For more fun, get involved with the show and take the ride of your life in a REAL Monster Truck.  You will experience the true power of these humongous machines. For 15 bux you can ride in a real monster truck!  The Ride Truck driver and crew sell tickets at the truck so bring cash as the whole family will want to ride – it is off the hook!
​Kids Power wheel Races: Kids can be part of the show too! Enter your 3 year – 9 year olds in the 6volt-12volt class and the 16volt -36 volt Power wheel half -time race. This once in a lifetime experience does not require pre-registration and is open to everyone attending the show.  Just bring your charged up Power wheels to the gate and sign in the paperwork and your automatically entered. During intermission our announcer will let you know when it's time for to head down to the floor to race. Win prizes like t-shirts, hats and merchandise. Don't forget to bring a helmet for anyone that is riding.  We require some kind of helmet including a bicycle helmet works.
​This action-packed event, so don't miss out on this opportunity to see some of the world's most incredible monster trucks and thrill show n action. Get your tickets now! www.nolimitsmonstertrucks.com/shop/ 
​Show Schedule:
5:30 PM – Gates Open & Ride Truck Starts
5:45 PM – Pit Party begins
6:45 PM – Pit Party and Ride Truck ends
7:00 PM – Show Starts after National Anthem, Invocation and then it is time for Big Ed and Stacey to attempt that crazy motorcycle jump!
8:00 PM – 8:15PM – Intermission visit the vendors and monster ride truck gives rides.  Power Wheels parents get your racer and driver ready
8:15 PM- Ride truck ends
9:15 PM – Show Ends / Post-show Monster Truck Rides and autographs
​Parking fees may apply. All sales final.
​* Feature Truck line-up and performers are subject to change at the discretion of the promoter.