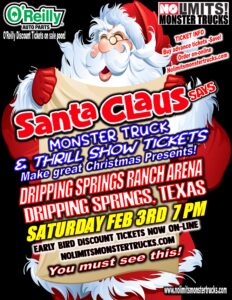 O'Reilly Auto Parts No Limits Monster Trucks & Thrill Show is an action-packed motorsport with wild drivers locked in exciting competitions featuring racing , two wheel skill, and the popular Freestyle Competition AND a Record Motorcycle Jump Attempt!
Event Date & Location:
Saturday February 3rd  7pm
DRIPPING SPRINGS RANCH ARENA
1042 Events Center Drive
Dripping Springs, TX 78620
Each event lasts around 2 hours.
O'Reilly Auto Parts presents the @NO Limits Monster Truck & Thrill Show, unlike anything that Dripping Springs and the Austin area has ever seen!
We have a very special event as the World's Largest Motorcycle DareDevil 280 pound – 73 year old BIG ED BECKLEY is coming out of retirement! The last time he jumped was in 2017 and the venue was sold out!  This event something completely insane! He is going to carry a passenger on behind him! Pretty Stacey Steinert, is married to one of Ed's longtime friend. This in-shape athletic gal is ready to make history!
BIG ED is like having two people on his special built Harley-Davidson jump bike! In December 2022 he was diagnosed with Cancer and he went thru several risky operations and is now CANCER FREE! His doctor released him and told him to be careful!
You will not want to miss this!
Tickets are online now and soon at local and area O'Reilly Auto Parts!  Area and local O'Reilly will have General Admission discount tickets on sale. This includes the local O'Reilly Store located 604 US-290, Dripping Springs, TX 78620. They are open till 9pm Mon-Saturday and Sunday 8am to 8am.
The Monster Truck competition is real! These drivers will be on the throttle hard trying to beat the other guys! Likely to see rivalries between drivers and teams! Fierce wheel to wheel battles for each event's overall Champion adds to the drama.
See these 10,000 pound – 1700+ Horsepower No Limits Monster Trucks, including many you've seen on television.
KING KRUNCH from nearby Conroe, Texas has been on Monster Jam many times. There are also replica Toys made with his truck. Dillon Fenley is the young man that owns the truck and he and his crew keep busy, "When you run the truck as hard as we do the fans in the stands push us with the excitement, that is why we do this!"
***MONSTER TRUCK LINEUP***
KING KRUNCH
OUTLAW WRANGLER
THRILL BILLY
NITRO HORNET
GERONIMO
PLUS a Monster Truck which Spectators can ride in!   
There are No Limits on the trucks engine, fuel, or size of tires. That equals more performance which allows these trucks get some huge air for Freestyle. Two Wheel Skills competition features Wheelies, front wheel Crab Walks! All this shows the drivers skills and spinning donuts brings the crowd to their feet!
The ground will be shaking with Monster Truck Racing competition!
Racing is always exciting, all other parts of the show are sure to also add to the family fun. Kids Power Wheels races are always a hit and the 3yrs thru 9yr olds are as serious like it was the Daytona 500. Kids race their own 6 volt – 12 volt and  battery powered Power Wheels on a track that safe. Parents are able to get down on the track to cheer their racer on and help the have more fun! Bring a helmet!
Want to know more about the races call our office at 940-683-4742 from 9am thru 6pm Monday thru Friday. Or send an email to [email protected]
Special Discount Tickets are ON SALE NOW for Christmas presents!
Stay tuned we will have plenty of information about this event inside the Dripping Springs Ranch Arena in Dripping Springs, Texas is going to blow you away
O'Reilly No Limits Monster Trucks & Thrill Show Feb 3rd 7pm VIP Child 3-12yrs