San Angelo,Texas No Limits Monster Trucks and THRILL SHOW Saturday March 13th!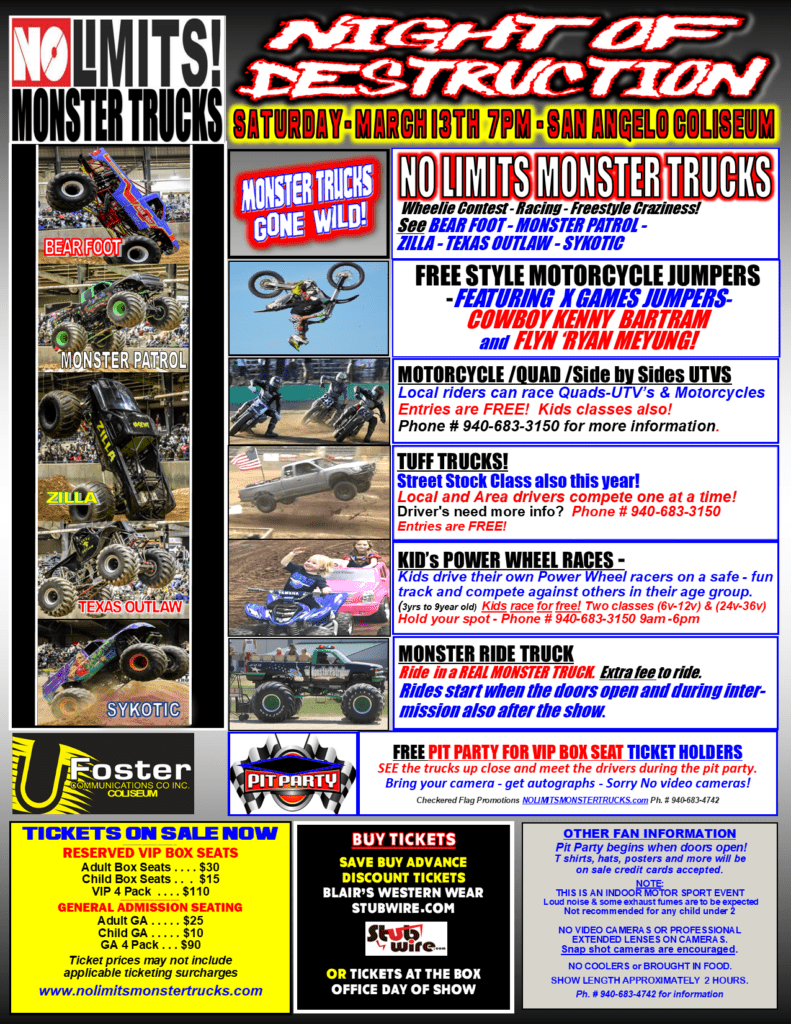 Some of the nation's most competitive MONSTER TRUCKS invade Foster Communications Coliseum on Saturday March 13th, 2021 at 7:00 pm.
SHOW TIME
Saturday March 13th, 2021 at 7pm. (Pit Party is 6PM to 6:45 PM) Doors open at 6 PM.
WHAT TO SEE
NO LIMITS MONSTER TRUCKS
The No Limits Monster Truck lineup is one you will not want to miss! Get tickets now to see these incredible 10,000-pound, car crushing giants compete in racing, wheelie contests! The Coliseum may never be the same after these bad boys turn it loose with amazing freestyle action!
MONSTER TRUCKS: The list of trucks signed up to be in San Angelo includes the legendary and former World Champion BEAR FOOT plus MONSTER PATROL – ZILLA – TEXAS OUTLAW and SYKOTIC!
*Monster Truck lineup subject to change without notice.
RACING 
Amateur and Pro Motorcycle Racers will be elbow to elbow! Racers compete in a variety of competition classes. We have classes with kids from 4-year-old to the mighty Pro riders of all ages. Classes are per rider skill-set and motorcycle size. Joining the two wheelers will be the UTV's and more! Racer Questions 940-683-4742
NO LIMITS NIGHT OF DESTRUCTION & THRILL SHOW
Hang on – here comes the X Games Freestyle Motocross Jumpers! CowBoy Kenny Bartram
will throwing down some crazy tricks he is famous for.  Full complete rotation back flip on his motorcycle is a life threatening stunt and Kenny has the scars to show for it.  Freestyle rider
Flyn' Ryan Meyung
will
ALSO
be in San Angelo busting out some big air tricks!

PIT PARTY SESSION & PHOTO OPPORTUNITY
Come early, see the Trucks up close and take photos with the Monsters. Pit Party Pass comes with a-VIP Box Seat holders pit party pass!
RIDE TRUCK
Kids and Adults will enjoy the Ride Truck! Get the ride of your life on-board a real Monster Truck during the Pit Party and Intermission!
(Ride Truck Operators do charge a fee for each person to ride).
POWER WHEELS RACES

Kids 3 yrs though 9 yrs race their own battery powered Powered racers.  6volt to 12volt is one class and we have added an open class for 24volt – 36 volt racers also. Want your child to race call our office 940-683-4742 to hold your space.
ATTENDEES SHOULD NOTE
Event is indoors. Loud noises and minimal exhaust fumes should be expected.
No Food or Drink may be brought in.
Not recommended for children under 3 years of age.
No video camera, or professional extended lens cameras allowed.
Event length approximately 2-3 hours.
Check out 
www.nolimitsmontertrucks.com
 or for more information phone 940-683-4742 .
This event will be operated under the Governor's and CDC guidelines.
Discount tickets on sale through Stubwire.com and Blairs Western Wear!