O'Reilly Auto Parts Motorsports Spectacular with the West Coast Truck Pull Championships are coming to Kalispell!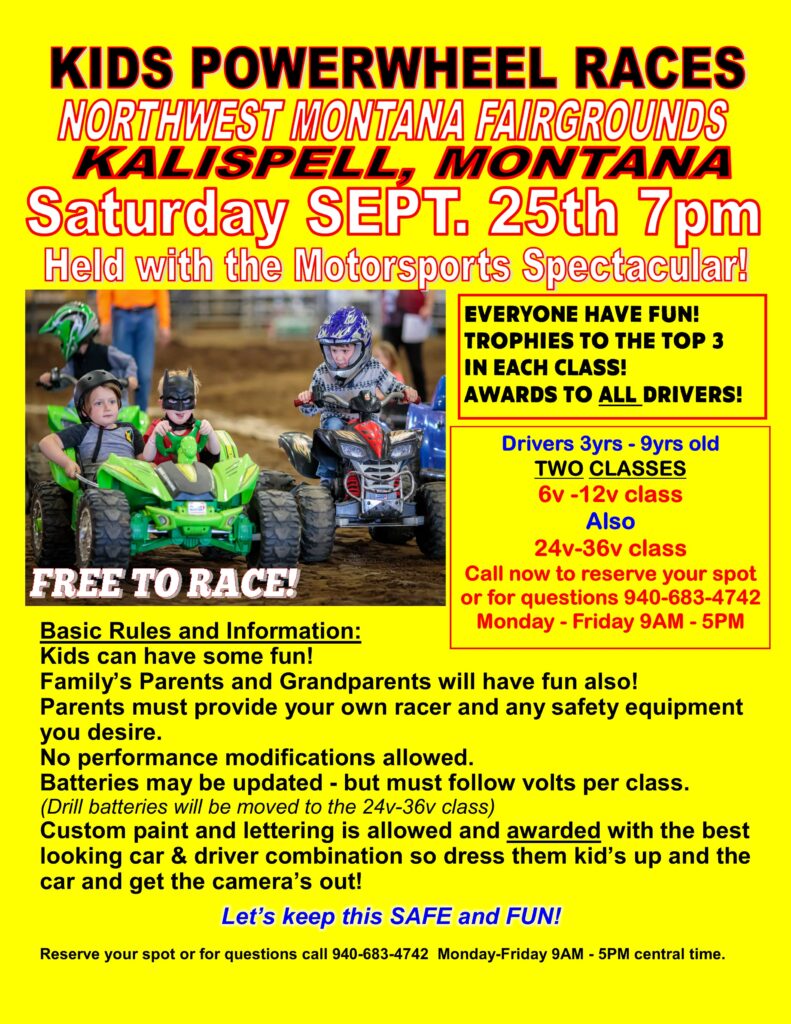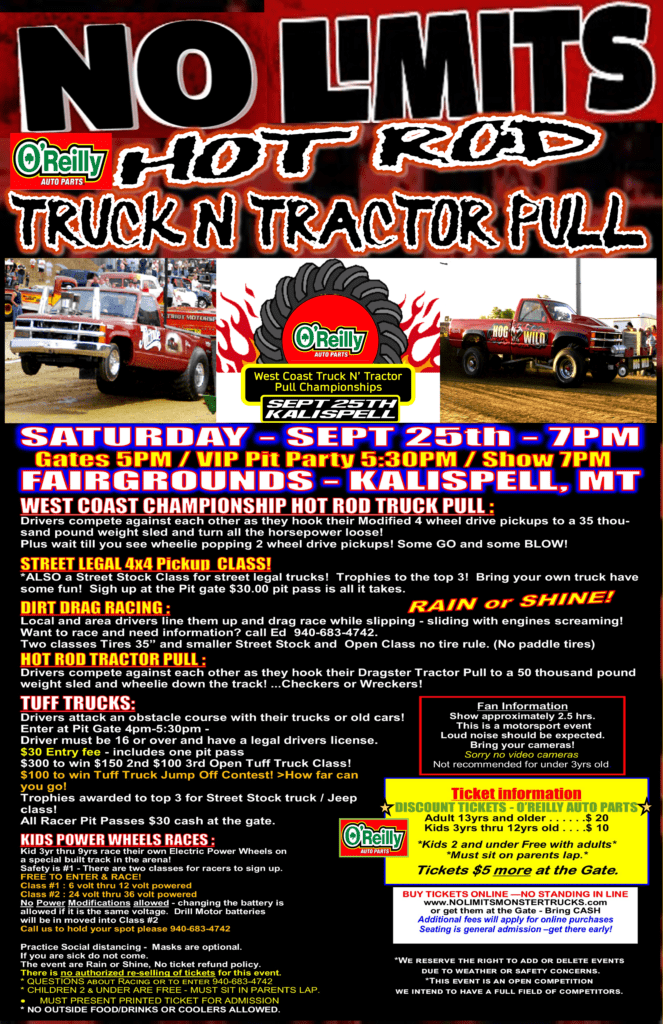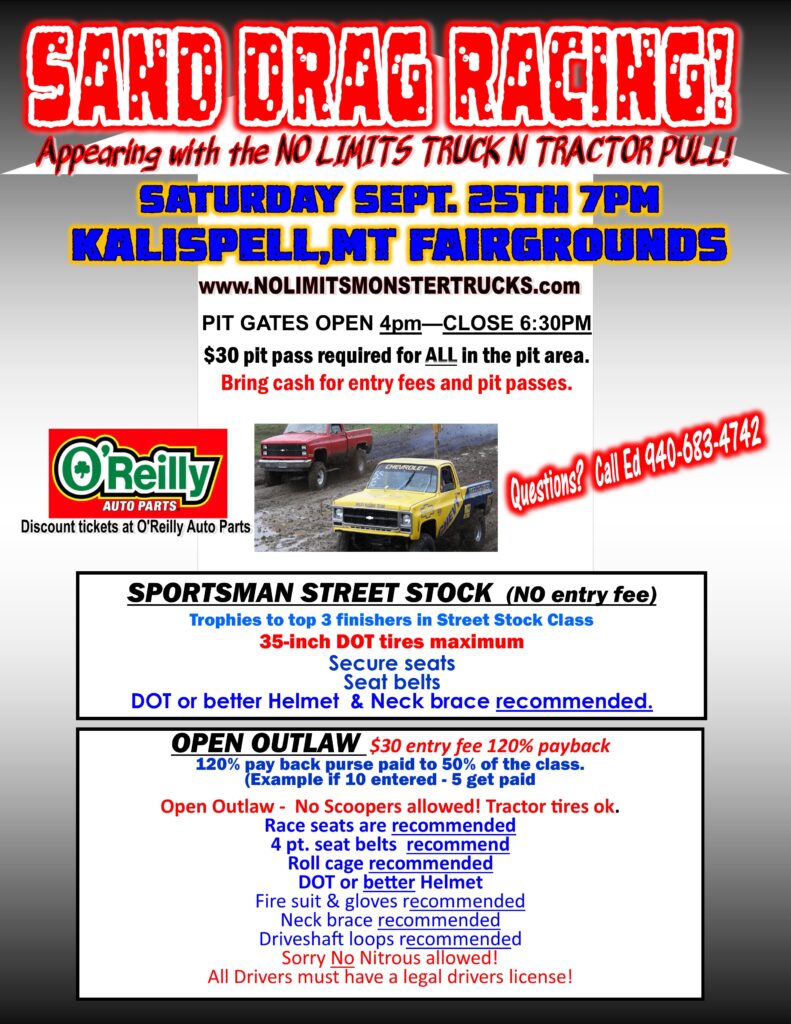 O'Reilly Auto Parts West Coast Truck Pull Championships are coming to Kalispell!
The Northwest Montana Fairgrounds in Kalispell will be shaking with HORSEPOWER!  West Coast Truck Pull Championships are coming to Kalispell, we received many emails and phone calls to "bring a big super pull" to the Northwest.  Only one chance to see these BAD BOYS and GIRLS, Saturday September 25th at 7 o'clock.  Rain or shine these monster motor Hot Rod Trucks and Tractors loose and tear it up!  O'Reilly Auto Parts West Coast Truck n' Tractor Pull Championship lineup is full of TV stars with well known trucks and tractors you have seen on television!
The Pulling drivers hook up to a 50,000 pound pulling sled with a Dragster Tractor, or a Hot Rod Two Wheel Truck, or Hot Rod Modified 4×4 Pickups, also local guys in their Street Stock pickups.  When the driver hooks on the sled they know there is only one way they are going to win and that is to turn all the horsepower they have loose!  Some with their front wheels in the air – huge tires spinning at over 100 mph they steer it down the track fighting for control.  Get your cameras ready this will have spectators on the edge of their seats!
Sand Drag Racing with Modified 4×4 trucks as well as Street Stocks. 
Anyone with a legal drivers license may compete.  Sign up at the track beginning at 4pm.  Cost of Drag Racing is only $30 pit pass.
KIDS POWER WHEELS RACES
Kids 3-9 will race with their own battery powered Power Wheels. Two classes this year we have our usual 6volt-12volt class and recently we added a 24v-36v class. This allows kids that have a larger power wheels to race in that open class.  All that is needed is the parents and children need to purchase a ticket for each to the event.  Call the office to hold a space for your child to race and for any questions you might have 940-683-4742 – You and your family are going to have a Blast!
PIT PARTY SESSION & PHOTO OPPORTUNITY
Gates open at 5pm and seating is general admission.  Come early to claim your choice of seats.  Before the show begins enjoy the FREE pit party at 5:30pm – 630pm.  Bring your camera and you can get up close to see the racers and take photos with the drivers.
ATTENDEES SHOULD NOTE
No Food or Drink may be brought in.
We have a great concession stands with freshly prepared food.
No video cameras, or professional extended lens cameras allowed.
Event length approximately 2-3 hours.
Check out 
www.nolimitsmontertrucks.com
 or for more information phone 940-683-4742.
Tickets on sale for the O'Reilly Auto Parts Motorsports Spectacular!

If you purchase tickets at O'Reilly's there is no charge to use your credit card or ticketing fees.
Adults 13 yrs and over $20.00
Kids  3 yrs thru 12yrs   $10.00
2 yrs and under are free
Tickets on sale online prices will be more with addons, like ticketing fees, credit card fees as well.
Tickets at the door will be more!