No Limits Monster Trucks & SuperCross in Meridian, Miss. Jan 29-30th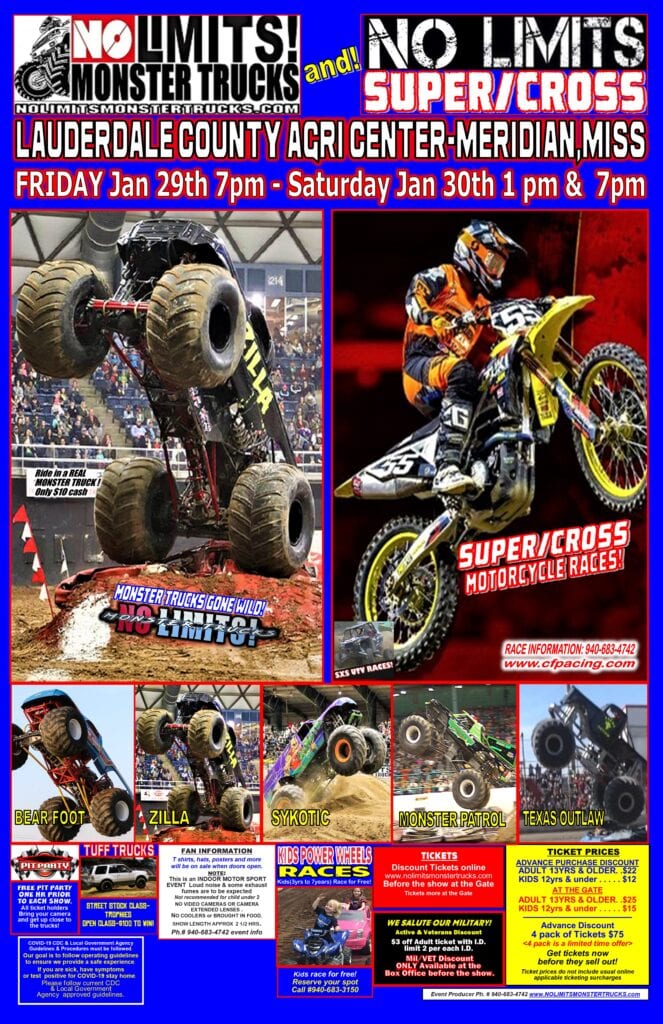 No Limits Monster Trucks & SuperCross in Meridian, Miss.  Jan 29-30th

Something Big is happening in Meridian!
Race Fans, here comes the No Limits Monster Trucks & SuperCross inside the Lauderdale County Agri Center in Meridian, Mississippi. The Agri Center will be hosting its largest Motorsports event ever in Mississippi as the No Limits Monster Trucks & SuperCross blasts into Meridian, Miss.  There are three big events, each full shows, on Jan 29th FRIDAY  7pm  &  Jan 30th SATURDAY  1pm & 7pm.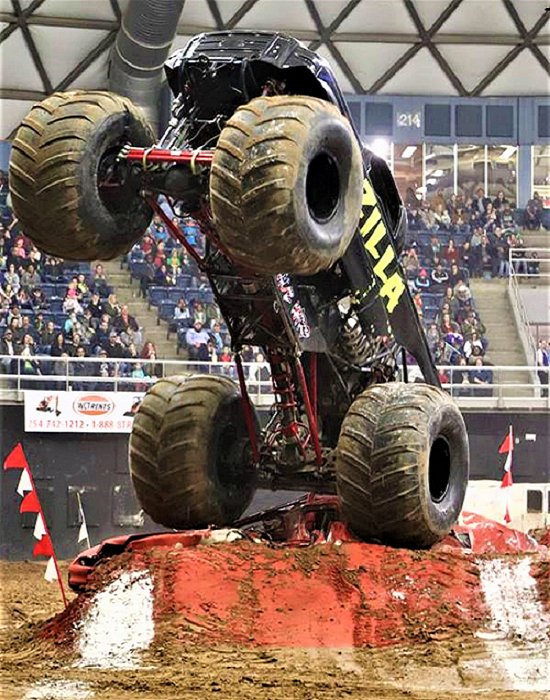 Monster Truck lineup of Stars!
Attention Eastern Mississippi and Western Alabama folks this is your only chance to see the No Limits Monster Trucks!  The crowd will be thrilled with Legendary Monster Trucks including MONSTER PATROL and BEAR FOOT.  The ICONIC trucks plus last years winner ZILLA roars in with a teammate the TEXAS OUTLAW.  Plus, the SYKOTIC Monster Truck is coming to Meridian!
All 5 drivers will be on the gas ripping it up!

Super/Cross Races!
Super/Cross racers loved the track last year and so did the crowd.  This year the Pro Bike purse has been doubled and they are already pre-entering the event.  The sports future Pro riders are Amateur riders as young as 4 year olds in competition.  They will be as intense as the Pro riders competing against other kids their ages on motorcycles are small as 50cc's.  They want to win some great looking trophies and because Mom, Dad and Grand parents will be cheering them on!  Riders from Alabama, Mississippi and Tennessee have been calling about this event – this should be a great turnout!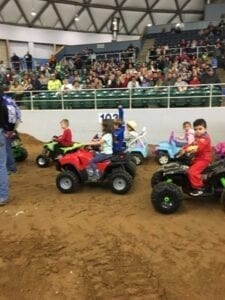 Kid's Power Wheels Races!
Your child can be part of the show!  Bring your own 6 volt or 12 volt power wheels racer.  No modifications other than cosmetic changes to your power wheels.  Nothing is to be done to make them faster.
Tuff Truck Races!
Bring out your own Pickup, or a Jeep, put on your helmet and join the fun.  Street Stock daily drivers competing over an obstacle course against the time clock one at a time.  Or in the open class these might be modified trucks with suspension changes are in their own class.  Questions phone our office 940-683-4742 to find out more. 
Ride Truck is a must do!
There's also is a Monster Truck set up for giving rides in the back of the truck.  Kids of all ages even Grandparents will have a ball riding in the truck.  Only $10 cash to ride in the truck and ride tickets are sold at the truck.  
Tickets online and Save $'s!
Discount affordable Tickets on Sale now on www.nolimitsmonstertrucks.com. Get tickets online now, and no standing in line!  This is going to be a great event for families or even a great Date Night!

Questions, call our office 940-683-4742 Monday thru Friday 9am to 6pm Central Time.