Monster Truck Showdown and Mud Races July 17th in Farmington, NM!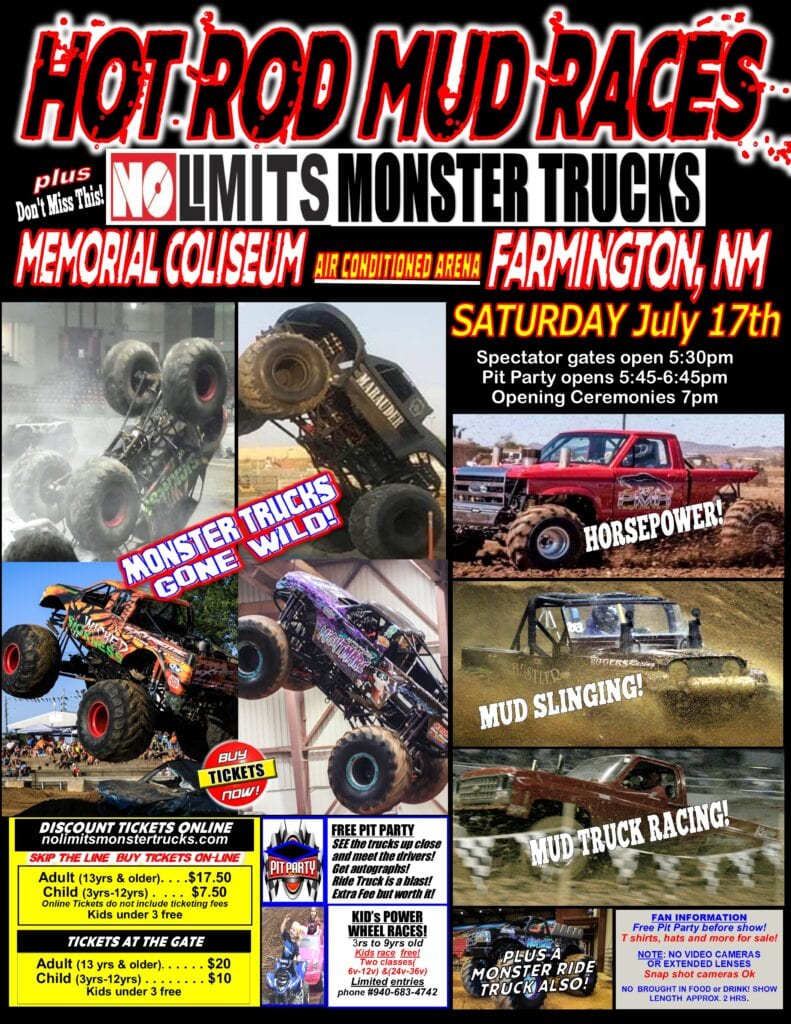 Monster Truck Showdown and Mud Races July 17th in Farmington NM!
Discount Tickets on sale now online www.nolimitsmonstertrucks.com.  Tickets will be on sale at the gate at 5:30pm on Saturday the day of the show.  Cash or Credit Cards accepted for onsite box office ticket purchases.  Affordable Discount ticket prices for this event are only $17.50 for adults 13yrs and older.  Kids 3yrs through 12yrs are only $7.50 in advance.  Ticket prices go up to $20 for adults and $10 for kids.
Our yearly February Monster Truck event was not held for the last two years.  No Limits returns to Farmington, New Mexico July 17th after Covid pandemic interrupted all our lives!
We have a great line-up for this Monster Truck showdown.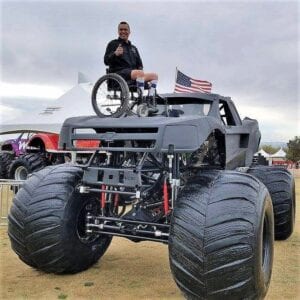 The Air Borne Ranger
Marauder
One is of the driven by 'Ranger Joe'.  Joe Cypher, who is a Army veteran out of Reno, Nevada had a one of a kind truck built so he could compete.   The truck has steering and throttle/brake are operated by hand controls.  Joe is a former Army airborne ranger himself and was paralyzed from the waist down in an accident in 1989.
Wicked Sickness
is driven by wild man Mark Andrews from St Louis!  Mark has been around the 4×4 truck world for a long time, starting in Mud Races and Tuff Truck events.  About 6 years ago he bought a truck and revamped it to the current Wicked Sickness.  Keep your camera on this guy as he will try everything to win!  Sometimes is so wild he ends up getting upside down!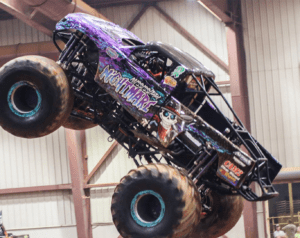 a
All 3 of the trucks are on their maiden voyage to the 4 Corners area and this guy is coming from the furthest.  Chris Whatley and his Mississippi Nightmare have been on a winning streak.  He driven at Monster Jam shows.
We are happy to we are coming to Farmington on Saturday July 17th with two big shows in one!  We are bringing a Monster Truck event plus we have HOT ROD MUD RACES!
This the first time in about 6 years for hot rod mud races. Drivers are excited and some already signed up from the surrounding states and New Mexico. Those who want more information about the Mud races please get ahold of our new Mud Race Manager, Nessy Pacheco.  Her email is vkpacheco81@gmail.com or phone / text her at 719-464-5331.
Something COOL in Farmington!  With the summer heat we have some great news.  Out of the sun and inside the airconditioned Memorial Coliseum we are bringing a great show with lots of action! Sitting in an air-conditioned event center watching al the Horsepower machines is going to make it allot more fun!
We also have a Monster Truck that you can ride in!  The ride sitting in real racing seats gives you the feeling these monster truck drivers feel every time.  The ride is well worth the cash and thrilling for all ages.
Kids Power Wheels a popular part of the show is back. The kids get to be part of the excitement, and families are loving it!  3 year old's through 9 year old's get to race their own electric powered Power Wheels and Barbie cars! "My kids are so excited to hear you are coming back and they get to race there also!", said a local mother.
If you are within a days drive of Farmington do not miss this event!  There is one big complete show starting at 7 o'clock, scheduled for Saturday July 17th.
Monster Trucks and Mud Trucks will be in hot and heavy competition going for thousands of dollars!
For more up to date information and fan participation hop onto our No Limits Facebook. If you want to call the office we are open Monday through Friday 9am thru 6pm and our office number is 940-683-4742