No Limits Monster Trucks – Ardmore, Ok Dec. 5th
 No Limits Monster Trucks in Ardmore, Ok Dec. 5th is sure to be a huge hit.  For over 34 years our company has been doing all sorts of motorsports events in Ardmore's Hardy Murphy Coliseum.  Monster Trucks have been the spotlight for several years plus we add a special attractions, wait till you see what we have for this event!
There is one show at 6pm gates open 5pm to allow spectators time to get in early and get the seats they want.  Early arrival will help allow more time as to look at the trucks during the pit party.  Buy tickets www.nolimitsmonstertrucks.com
This show will be one that is a "MUST SEE!"  Legendary Monster Trucks will be part of this huge event check out the line-up!  MONSTER PATROL – BEARFOOT – ZILLA- TEXAS OUTLAW – and more!  There is a Monster Ride truck also – it is an experience!
We always try to bring our friends and fans – more and different.  This years event will be more and different since we have been doing the power wheels races, there is Power Wheels Demolition Derby!  For the first time ever in Texoma!  Yes it is safe, and we think you will love this event.  Families are sure to enjoy the entire event.  Limited entries call our office 940-683-4742 to hold your spot for your 3 yrs to 5 years old and 6 yrs to 9 year olds.  Trophies awarded for to top 5 in each class.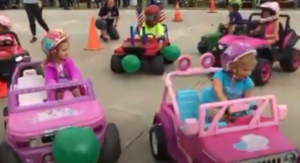 Kids will have a blast!  
Discount tickets on sale now through our website www.nolimitsmonstertrucks.com .  This year the No Limits Monster Trucks – our tickets features a 4 pack of tickets is only $80 – a savings of $20 dollars.  Discount tickets also available in single sales of $25 for adults and kids 3 thru 12 are $15.  Ticket prices go up $5 dollars at the gate.   More information use the CFP Box Office link to take you there.
The Hardy Murphy Coliseum is a very historical building with all sorts of great events, check out the history here>  www.hardymurphycoliseum.com/our-story/ 
———————————————————————————————————————————————-
We are having a Kids Power Wheel Demo Derby appearing with the No Limits Monster Trucks!
Hardy Murphy Coliseum – Ardmore, Okla
Saturday – December 5th, 2020 – 6PM
Pit Gates open for Registration 4pm-5pm event starts at 6pm
Pit Gate for Power Wheels drop off & sign in at back of arena.
No Entry fee — all who participate in the Derby will get free tickets and a ride in the Monster Truck
The Derby is designed as an unusual spectator attraction.  Every entrant is subject to the following rules and regulation in the interest of safety and equal competition.  Checkered Flag Promotions does not imply or guarantee safety.  Total responsibility for the inspection of the car and rule compliance is by the owner/driver / parent or guardian.
<Check out how to build a Power Wheels Demolition Derby vehicle click on this link.> 
———————————————————————————————–
Driver classes & Rules
Judges can rule that children won't participate because there are modifications to the car more than those allowed that are stated below!
Kids 3-10 years of age may participate. Two age groups: 3-5 and 6-10 years. ALL kids must be accompanied by an adult.
All drivers must supply their own car and set it up according to the rules.
Balloons will be attached to the Power Wheels and the object is to have all the balloons intact
When choosing a Power Wheels for your child, please keep in mind these vehicles will be running into each other (like bumper cars or derby cars). The Power Wheels needs to be the kind the child sits IN, not ON. And they need to be seat belted INTO the car. No 4-WHEELERS, TRACTORS, MOTORCYCLES! Must be a vehicle they sit IN, not ON.
Driver only, NO passengers
Derby is limited to 6 to 12-volt power wheels ONLY. No connecting multiple batteries together. (This makes the power wheel move too fast, and makes it unsafe to the other drivers.)
A seatbelt is recommended but not required.
No added reinforcements for strength to the Power Wheels. If you think you need
All doors and tailgates must be strapped shut. No sharp edges. Use zip ties or duct tape (or other flexible products) to make them stay shut.
Stock tires only. No screws in tires, no chains, etc.– No Modifications or additions to those tires.
Vehicles may NOT be raised or lowered. They must be the stock height that came from the store.
The vehicle is allowed to have UP TO a 12-volt lawn mower or motorcycle battery. Battery cannot be mounted in the passenger seat, and the battery must be secured and sealed away from the child.
Decorative changes can be made to the Power Wheels to make it look like a derby car; however, there can be no reinforcement to the Power Wheels. Changes and additions can ONLY be decorative. i.e.: header pipes sticking up, painting the car, etc.
Helmets are mandatory; bicycle helmet are permitted
Shoes or sneakers required. NO sandals.
Any situation that arises, Chairman has the power to add or change rules as required.  If it isn't in the rules, it doesn't make it legal.
All drivers and at least one parent must be at the HARDY MURPHY COLISEUM – ARDMORE, OKLA by 4pm Dec.5th for inspection.
All Children must have a from a parent or Legal guardian sign consent form and accompany the child.
Drivers Name_______________________________________  Age____Phone ______________________________  Male  ______    Female _______
Address ____________________________________________  Town___________________ State___________  Zip_____________  
PARENT/GUARDIAN SIGNATURE ________________________________________________________
By signing this form, you give permission to publish any placings you receive and pictures in the newspaper, on radio, and/or on the website.
All Children who wish to participate in this event must pre-register.  Please complete this form and return to:
Checkered Flag Promotions  PO Box 1198 Bridgeport, Tx 76426 or email it to ed@nolimitsmonsterttrucks.com