No Limits Monster Truck Tour coming to Hempstead, Texas!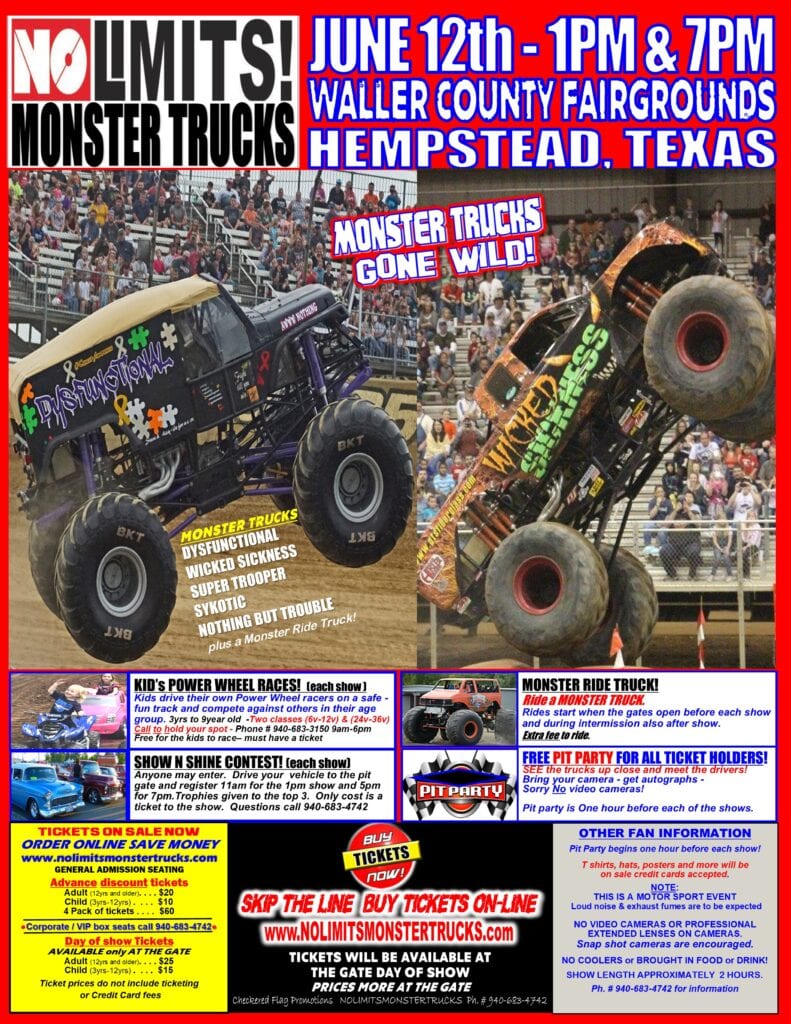 No Limits Monster Truck Tour coming to Hempstead, Texas!   Hempstead, Texas has never seen anything like this at their beautiful fairgrounds.
Area fans have had little choices, they must drive to Houston where Monster Truck events are held every year since 1994.  When they appeared in the Astrodome, it was to sell out crowds. "Northside of Houston is ready for something like this and we are proud to have the event in our hometown! "said a local Monster truck enthusiast.

If you are within an hour drive of Hempstead, Texas do not miss this event! Two complete events are scheduled for Saturday June 12th.  There is an early afternoon event at 1 p.m. and then again that night at 7 o'clock.
We are excited and Texas proud to be coming to the Houston area!  Some of the Nations top No Limits Monster Trucks are booked for this event.  This is a Monster Truck show you will not want to miss!
Here is the line-up of Monster Truck stars!
DYSFUNCTIONAL  
WICKED SICKNESS
SUPER TROOPER
SYKOTIC
NOTHING BUT TROUBLE
Plus there is a Monster Ride Truck – fans can ride in the truck for a fee and it is a must do at the event!
For more up to date information and fan participation is invited hop onto our No Limits Facebook.