No Limits Monster Trucks invade Denton,Texas October 2nd!
No Limits Monster Truck Tour invades Denton on October 2nd!

The North Texas State Fairgrounds comes alive with the No Limits Monster Trucks and Thrill Show.
See the some of the nation's most competitive Monster Trucks Saturday October 2nd.   There are two chances to pick up on the event there's an early afternoon event at 1pm and again that evening at 7 pm.
Discount tickets available on-line www.nolimitsmonstertrucks.com .   Skip the Line – Get tickets online!
Grab some tickets now while you have the chance!
SHOW TIMES
Two complete events at the North Texas State Fairgrounds Arena at 1PM and 7PM.  Each event usually lasts about 2 hours.
NO LIMITS MONSTER TRUCKS
The No Limits Monster Truck lineup is full of TV trucks and they are some of the fastest!
Check out the line-up!

Are you ready to see these incredible 10,000-pound, crushing giants compete in racing, wheelie contest, and freestyle competitions?  It is going to be wild and there is not a bad seat in the arena.
QUAD & SxS UTV RACES
Atv 4 wheeler Quad races are offered for local competitors.  The popular Side by Side UTV's  like Razor's are usually a 1,000 cc high horsepower short wheelbase off road racer.  Many people in North Texas have these small dune buggies.  We have a special class for the local's that might want to try racing and also we have a Pro class for those who race for money!
If you have racer questions dial the CFP offices 940-683-3150.

POWER WHEELS RACES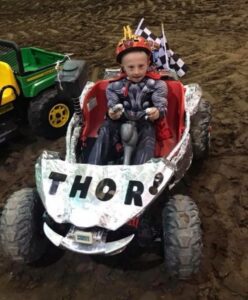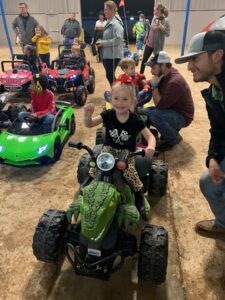 Kids 3-9 will race with their own battery powered PowerWheels. There are two classes, our usual 6volt-12volt class also a 24volt -36volt class s that have a larger power wheels.
The competition is just half the fun the fun meter is bumping the limit as we see the drivers dressed up in a costume of their favorite character.  We have seen kids wearing Ninja Turtles, Cowboys, Futuristic Thor, and even a NASCAR type.  This allows kids to have a great time while mom, dad, grandma and grandpa are all taking photos and video of the driver,
PIT PARTY SESSION & PHOTO OPPORTUNITY
Come early, at 12 noon and 6pm you can get up close to see the Trucks and take photos with the Monsters.
RIDE TRUCKS
Kids and Adults will enjoy the Ride Trucks!  Get the ride of your life on-board the Monster Ride Trucks before the show during the Pit Party, also with Intermission and after the show!
Ride Truck Operators do charge a fee for each person to ride, ride tickets are sold by cash at the ride truck location.
ATTENDEES SHOULD NOTE
1. Loud noises and minimal exhaust fumes should be expected.
2. No Food or Drink may be brought in there is great food and drinks at our concession stands.
3. Not recommended for children under 3 years of age.
4. No video camera, or professional extended lens cameras allowed.
5. Event length approximately 2-3 hours.