No Limits Monster Trucks Woodward, Oklahoma July 3rd 5:30pm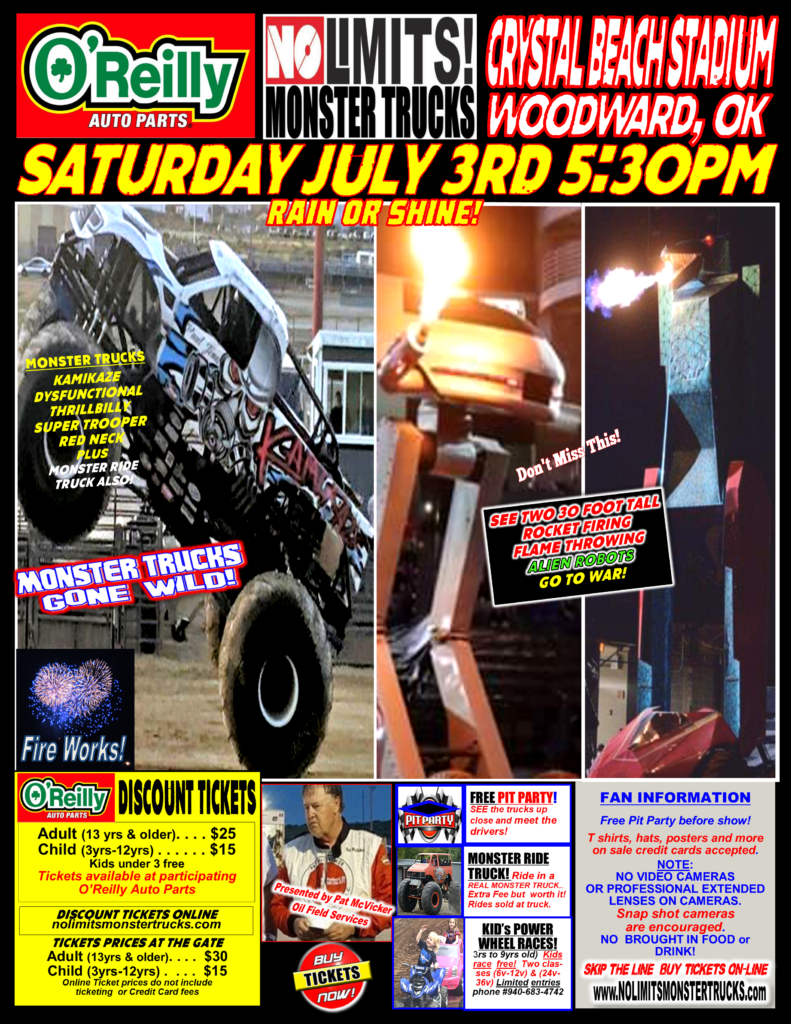 Pat McVickers Oil Field Service says LET'S GO RACING!

O'REILLY AUTO PARTS No Limits Monster Trucks headline the FREEDOM CELEBRATION  – Woodward, Ok.  July 3rd!
Get your Discount Tickets at O'Reilly Auto Parts and pay no fees.
Order Tickets online!  www.nolimitsmonstertrucks.com0
Tickets will be available at the gate also.  
Here comes the MONSTERS!
The Monsters are coming to Woodward, Oklahoma Saturday July 3rd at 5:30pm!
Some of the nation's most competitive MONSTER TRUCKS will invade Woodward, Oklahoma's Crystal Beach Arena on Saturday July 3rd!
SHOW TIME
July 3rd at 5:30pm (Pit Party is 4pm to 5pm) Gates open at 4pm.  Pit party to follow.
NO LIMITS MONSTER TRUCKS
The No Limits Monster Truck lineup is full of TV trucks and they are some of the fastest! Get tickets now to see these incredible 10,000-pound, crushing giants compete in racing, wheelie contests! Woodward will never be the same after these bad boys turn it loose with amazing freestyle action!
KAMIKAZE
DYSFUNCTIONAL
THRILL BILLY 
RED NECK RAMPAGE
SUPER TROOPER
WAR OF THE TRANSFORMERS
See TWO 30 FOOT TALL FIRE SHOOTING – TRANFORMING ROBOTIC ALIENS GO TO WAR!
TUFF TRUCK RACES
Local and area racers come on and show your stuff let's see how fast you can drive! For more information call our office 940-683-4742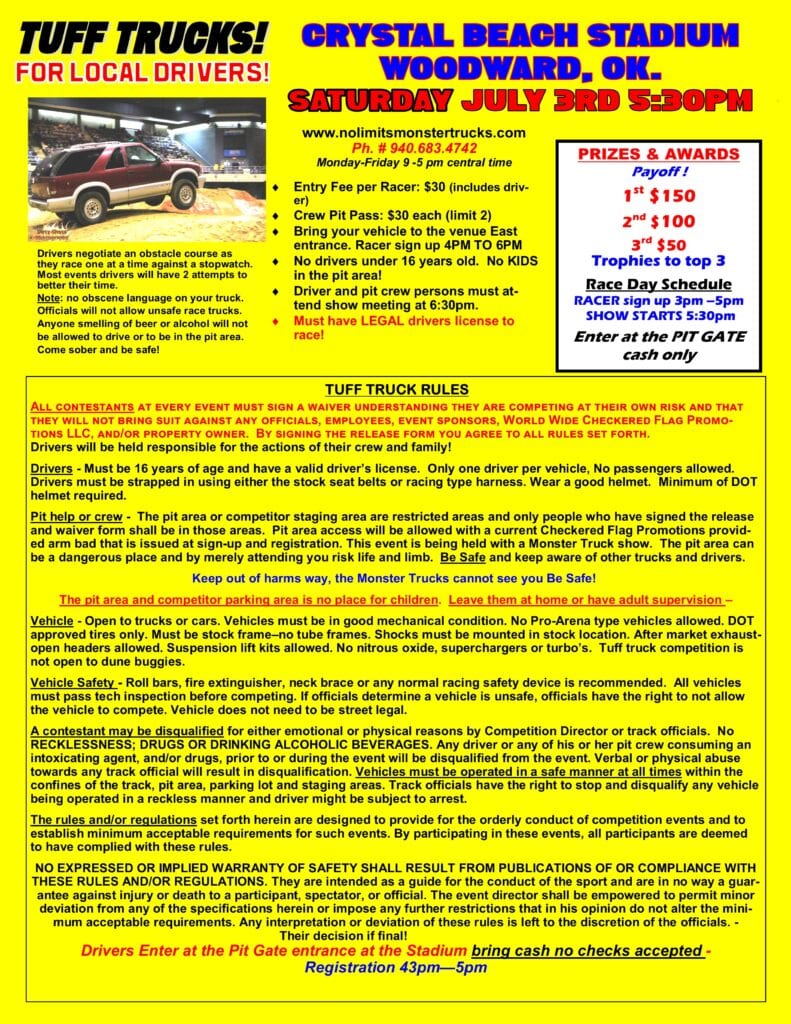 POWER WHEELS RACES
Kids 3-9 will race with their own battery powered Power Wheels. Two classes this year we have our usual 6volt-12volt class and this year we added a 24v-36v class. Top 3 in each class are awarded trophies.  Entries are limited – phone the office to hold your spot 940-683-4742.  Free to race, all you need is your ticket.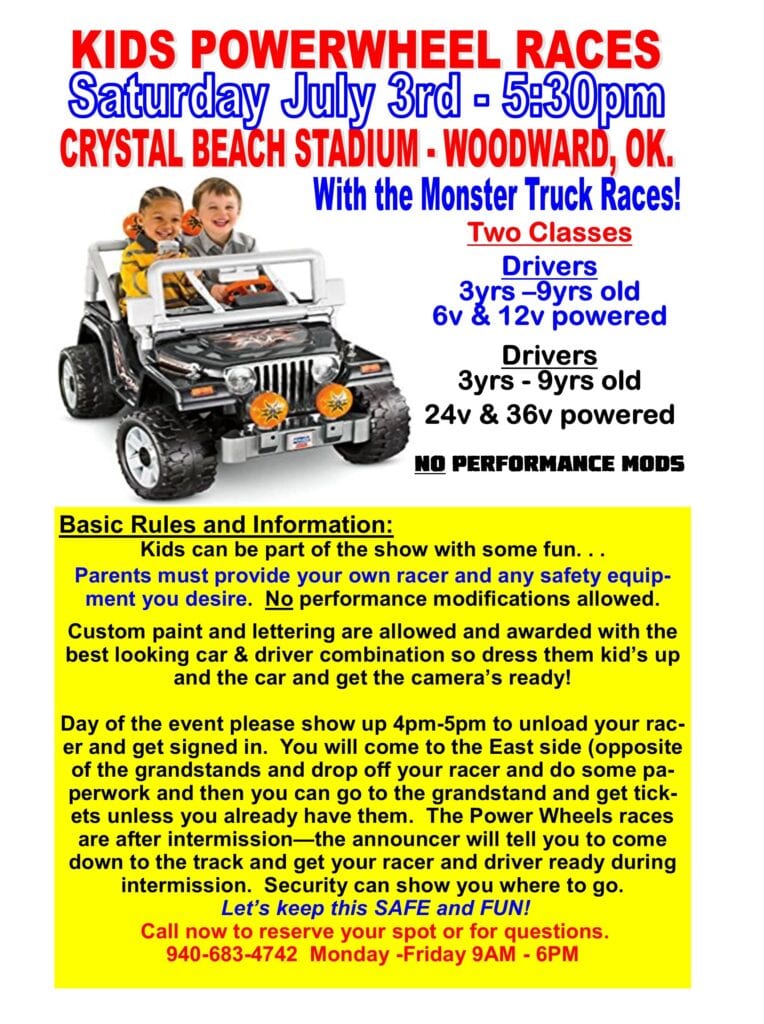 SHOW N' SHINE CONTEST
Anyone may enter their street legal car or truck in this contest.  The crowd will judge the winners.  Top 3 receive trophies – Free entry.  All it takes is a ticket to the event.
PIT PARTY SESSION & PHOTO OPPORTUNITY
Come early, see the Trucks up close and take photos with the Monsters.
RIDE TRUCK
Kids and Adults will enjoy the Ride Truck! Whatever you do, don't miss the chance to experience the ride of your life on-board a real Monster Truck!  (Ride Truck Operators do charge a fee for each person to ride).
ATTENDEES SHOULD NOTE
No outside Food or Drink allowed.
No video cameras, or professional extended lens cameras allowed.
Event length approximately 2 hours.
Check out 
www.nolimitsmontertrucks.com
or for more information phone 940-683-4742 .