No Limits Monster Trucks and Super/Cross return to Shipshewana!
No Limits Monster Trucks and SuperCross return to Shipshewana, Indiana Friday February 19th and Saturday 20th.  Crowds loved the shows last year and with popular demand, we do a Friday night 7pm, added a Saturday matinee for 1pm, then the final performance at 7pm. The MICHIANA EVENT CENTER has really put the small town of Shipshewana on the map with all sorts of various events the area people flocked to watch the Monster Trucks and SuperCross event last year.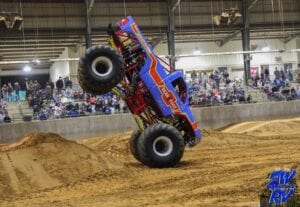 3 TIME WORLD CHAMPION BEAR FOOT!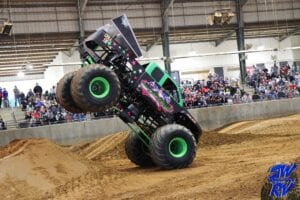 MONSTER PATROL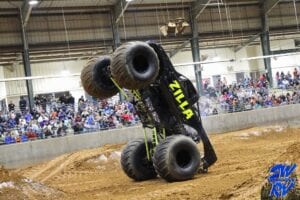 ZILLA


TEXAS OUTLAW


SYKOTIC
Our track building crew led by former Professional Motocross racer Ryan Meyung spent the better part of 3 days hauling in material to construct the most exciting track we could have imagined.  Starting in the adjacent back room the racers came roaring out of the starting gate and then began hitting jump after jump!  Riders gave the track nothing but praise and when they saw they would leave the arena diving into the back room and then jumping out of it like television SuperCross race tracks!  Camera flash bulbs did not stop with the motocross action, it seemed it got hotter when the fans were treated to some hot action from the No Limits Monster Trucks.  Monster Truck lineup is full of history making names as legendary MONSTER PATROL, BEAR FOOT, ZILLA, TEXAS OUTLAW, and SYKOTIC!
Nine thousand pound monster race trucks will be competing in side by side races bracket racing.  Plus the tailgates on the trucks take some punishment with the "Wheelie" contest and then we turn them loose with "Freestyle"contest which seems to be one of the spectators most favorite part of monster trucks.
If the crowd likes big jumps they are in for a treat when these 1,800 horsepower metal monsters with 6 foot tall tires and drivers that will do almost anything to win! Bring your snap shot cameras and capture the action is recommended so you can enjoy that crazy action for along time.
Amateur racers as young as 4 year old get their safety gear on and hit the track on their 50cc motorcycles.  The crowd went wild when the mini bikes with their mini riders blasted around the track rubbing elbows like the professional riders do on their 450cc rockets!  Anyone can enter to race.  Last year riders from Wisconsin, Illinois, Michigan, and Indiana competed for trophies as well as cash payout to the pro classes.
No horsepower, kids 3 years old to 7 years old compete with their own battery powered Power Wheels racers.  It is free for the kids to race all they need to do is have Mom or Dad give us a call and hold a space open for them to race and there are races during intermission for each show.  Our office phone number is 940-683-3150, call Monday through Friday from 10am to 6pm and tell us which race event you want to compete in.  That is all there is to it!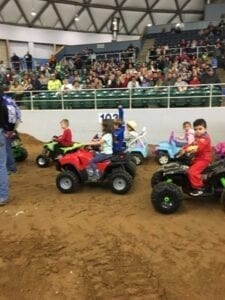 For more information about the races check out www.nolimitsmonstertrucks.com and No Limits Monster Trucks Face book. 
MONSTEROUS FUN FOR THE WHOLE FAMILY!
3 Shows! One show Friday night and 2 shows Saturday!
Supercross Races, plus Huge Monster Trucks, Kids Races and much more!!
February 19th, 2021 7 p.m. show. Doors open at 5:30 p.m.
February 20th, 2021 1:00 p.m. doors open at 11:30 a.m. AND 7 p.m. show with doors opening at 5:30 p.m.
TICKETS: ALL SEATING GENERAL ADMISSION:
Adult Tickets are:: 13 yrs and older: $25.00 Pre-Sale; $30 at the door
Kids 4-12yrs are:: $15.00 Pre-Sale; $20.00 at the door
Kids 0-3 Free
Discount Tickets will be on sale NOW ONLINE  click here to purchase tickets 🙂