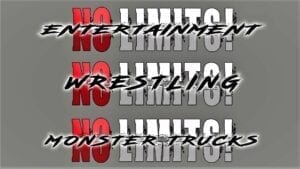 Checkered Flag Promotions has always had a pocket full of different events we promote and produce.  Currently we are known for the one of the leaders in the Monster Truck promotions going on in the world and the first to offer and only legitimate series for the independent monster truck owner to be able to go win a National Title!
No Limits
No Limits those two words conjure up a picture of whatever it takes and that is what we do, WHATEVER it takes to provide the best tracks for the competitors to race on,
the best value for the spectator.
Well we have expanded to include No Limits Super/Cross Races.  We saw the need for affordable racing with a chance for our young riders to get the exposure to be in front of huge crowds.
There will be more events and great news soon!